Florida Real Estate Cram Exam Prep Course
This course is designed for students who have already passed their required pre-license course and are preparing to pass their state exam. This course will review, Florida Law, Principles and Math.
VOTED BEST REAL ESTATE SCHOOL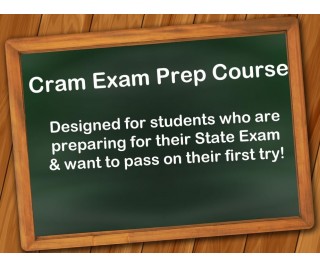 Why Choose Our School
1,000 practice questions with detailed answers.
This course is designed for students to pass the state exam on their first try.
We offer 24 Hour, 7 day a week LIVE dedicated instructor support.
(You don't have to wait days to get your questions answered, a licensed instructor will be available 24/7.)
You will have a 60 days to complete your online course.
The entire course is online, you can begin your course as soon as you enroll.
This course is a MUST for all students (Sales-Associates (Salesperson) and Brokers) who are qualified to take the state exam. Florida Real Estate Exam Prep contains 7 emulated state exams that reflect the format and scope of today's licensing exam, so you can fine-tune your test-taking skills.
Note: Most national online real estate schools will want to sell you a national online exam prep course. It's not designed for Florida. Since Florida Real Estate School only specializes in Florida, our exam prep course and law review course is designed for Florida with Florida state laws.
**THIS COURSE IS UPDATED TO REFLECT ALL THE NEW 2019 LAW CHANGES **
SPECIAL OFFER:
FREE BONUS INTERACTIVE FLASHCARDS WILL BE PART OF THIS COURSE $39.95 (For a limited time only)
NOT ALL REAL ESTATE SCHOOLS ARE THE SAME!
You will understand the meaning "you get what you pay for" with our school!